Two Friends and More Than Four Walls
A lecture on relationships between performance and film

Antonia Baehr & Isabell Spengler, Berlinale 2010, 120 min.

The lifelong friends Antonia Baehr (choreographer/performer) and Isabell Spengler (filmmaker/performer) analyze examples from their work with respect to the spatial and temporal interlacing of cinema and stage situations.
They discuss performances with film projections or the use of video; films that depict or translate a performance, or that execute a performance in the process of making a film; as well as performances in which a film production is developed further.
Using three-dimensional models and an overhead projector, they chart out the events and effects that occur in the space between the audience and the stage or the audience and the film when these works are shown.

The lecture includes a discussion of the following works:
- ERIKA IN AMERIKA, Antonia Baehr, 1998
- SYNCPOINT, Isabell Spengler, 2007
- TELEPATHY EXPERIMENT I, Isabell Spengler, 2007
- RIRE / LAUGH / LACHEN, Antonia Baehr, 2008
- THE PITCH, Isabell Spengler, 2008




The PDF to download contains the text of the lecture as well as film stills, images from the performances, and reproductions of the diagrams drawn on the overhead projector during the lecture.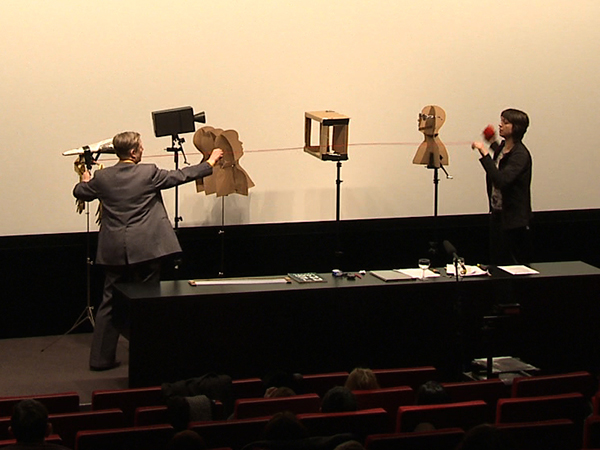 Two Friends and More Than Four Walls, lecture, Arsenal Cinema 1, Berlinale 2010